Aerospace industry- CNC EDM H Series
Aerospace industry- CNC EDM H Series
5 Axes/7 Axes CNC EDM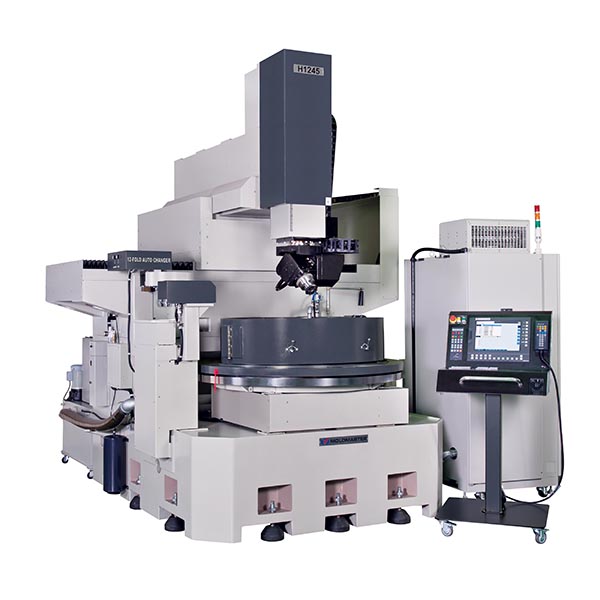 Feature
MOLDMASTER- H-Series, is 5-axes/7-axes EDM machines with the world's leading technology and also an unique machining tool for aerospace industries.
[Six axes simultaneous control,XYZ+ABC] (Multi-nation patented. Taiwan patented No.:I472394, U.S. patented NO.:US8866035 B2 )
Exclusively patented design of series type A/B/C rotating axes is shown on the figure. The advanced controller features simultaneous control on 6 axes(X/Y/Z/A/B/C axes). This makes the machine ideal for special machining applications in the defense, military and aerospace industry, which can be achieved by using various planetary orbital cutting on any axis.
[W-axis rotary table] (Taiwan patented No.:M418747)
Suitable for symmetrical round parts machining through NC program control.
[Programmable electrode compensation]
Automatic electrode compensation function can be executed during machining to improve precision.
[Fully encolosed splash guard] (optional)
To ensure high presicion machining, an optional external guard is available. This combined with air conditioning system and oil mist separation system to keep the internal air clean and at an constant temperature condition.
[Absolute linear scale] (optional)
When equipped with the linear scale, measuring and machining can be performed immediately after the machine starting procedures are finished. In case of power failure, the machine will immediately return to its original machining condition after restarted.
[Automatic back-flushing device] (optional)
To keep the working fluid highly clean to meet high precision machining requirement, an optional automatic back-flushing device is suggested. The device is capable of filtrating over 1um of particles(Service life of filter element is over 3 years)
[Digital meter] (optional)
Meets Industry 4.0 standard specifications, detects machining electricity current, electricity power consumption, electricity fluid temperature, also environment temperature detection records.