AUTOMATIC BACK FLUSHING EQUIPMENT
Flushing Equipment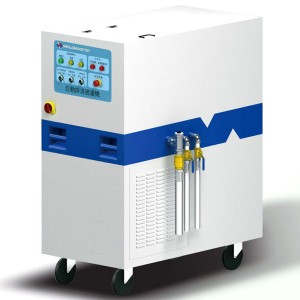 Feature
EDM can improve the overall efficiency of 10% to 30%.
High mobility: Fixed or mobile. Mobile automatic back flushing system will support other EDM easily at any time with no hassle.
Upgraded discharging performance and supports highly fine finishing: High efficiency filtering results, can reduce the production of dusts, dirt, particles in dielectric, in order to achieve fast discharging, high precision, less roughness of surface.
Reduce equipment maintenance cost: Automatic flushing starts when set. It saves time comparing with traditional filter change.
Tidy working environment; Most of the time, the work place maybe polluted by those leaking dielectric during machine operation. By using the flushing system, the EDM and the environment can be kept tidy.