ZNC EDM Y SERIES
ZNC EDM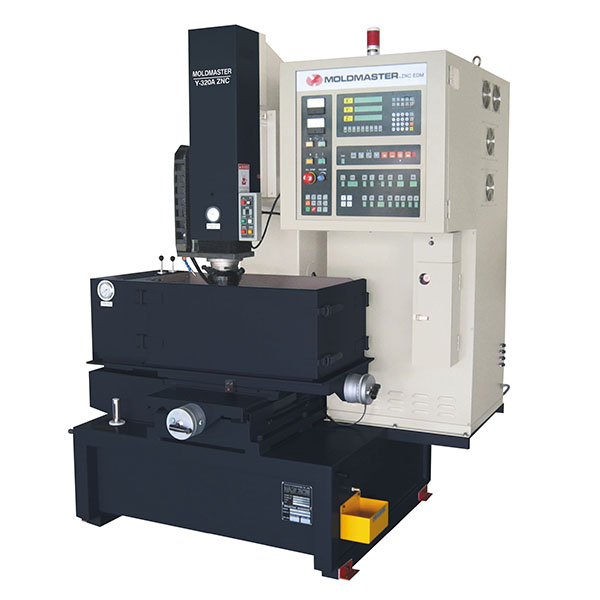 Feature
High performance Yawjet ZNC EDM with numerical control and super low wear circuits design promises to offer an evolutionary alternative to conventional EDM, and to bring one close to the latest EDM technology.
With full function monitor, Z axis can execute 7 machining depth setting steps in an auto run mode.
Three axes high precision 5μm optical scale location display, and setting function for automatic machine origin.
Could fulfill meter / inch unit and absolute / relative coordinate operation.
Integrated measure preparation function possesses the function of center calculating.
While in the power failure, it will automatically memorize machining program, machining parameters and each axis's coordinate value.
Possesses the discharge time calculating function.
Film touch digital panel with dust-proof, moisture-proof, good outlook, and durable advantages.
Matching with CU/ST, Fine GR/ST, CU/CU, ST/ST and special inflexible workpiece, and providing over 500 sets of internal best parameter-code database from rough to fine machining.
Modern VLSI digital power supply design provides a high speed 0.1% super low wear SL circuit and fast finishing character to smooth mold surface with no induration & crack.
High sensitive discharge servo system and abnormal arc depressing circuit will effectively prevent carbon dust from production, particularly favorable for small hole, thin ribs, side machining and large area machining.
With simple discharge parameter direct choosing input way, one hour could learn the operation.
Auto monitoring system provide in-time monitoring protection with extremely superior safety.
Directly modify discharge parameters without machining interruption, so the operation is simple.
2-switch positioning controls jump residue-removing function with simultaneous power, and it could avoid repeated discharge.
Immediately track the alteration of machining environment, computer could automatically adjust the discharge parameter.
Expandable with ORBIT CUT unit for expand machining.
Provide special application machining ECODE for rib, small piece, and deep hole machining.
With A code command, choose multi-stage machining conditions for different area.
Automatic regression to Z axis' zero point.