TNC EDM Y SERIES
TNC EDM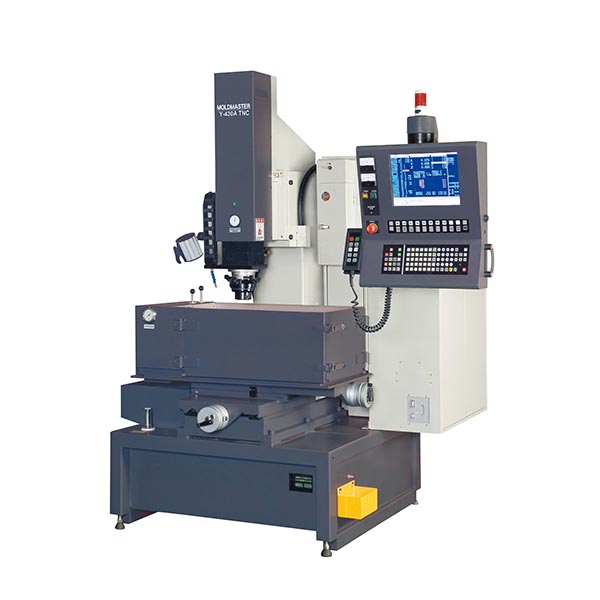 Feature
The Moldmaster TNC EDM with 32 bit provides increased metal removal speed and super low wear machining. It comes with digital power supply, easy operation and affordability result in productivity that make the Moldmaster Y-Series one of the signinficant practical solution to EDM.
16 depth machining steps of Z axis in auto run or single step in manual data input.
Three axes 5μm or 1μm optical scale grant-back location display could fulfill millimeter / inch machining setting with intelligent programmable EDM, so the operation is much easier than conventional EDMs.
Measure preparation function with integrated Chinese dialogue, and automatic machine origin setting function.
Matching with copper electrode, graphite electrode, special inflexible workpiece and various discharge materials.
Besides over 200 sets of continuous machining technique collections provided by original manufacturer, it is opened a self-establishment machining technique register system, and therefore accumulate on-the-spot machining experiences.
Extensive machining parameter database. Just enter machining depth and APACK code and machining from small current to large current and then from rough to fine will be automatically accomplished at a time.
The final three steps machining conditions of machining could control the completion time function.
With simple parameter direct choosing input way, one day could learn the simple operation.
Auto monitoring system provide in-time monitoring protection with extremely superior safety.
While in the power failure, it will automatically memorize machining program, machining parameters and each axis's labelling location.
Directly adjust discharge parameters during machining without interruption, and edit a new program while the previous one is in process.
With the machining monitor, operator can complete the correction of discharge parameter according to machining efficiency, stability, arc, and short circuit ratio.
Computerized precise 2-switch positioning controls jump residue-removing function.
Modern digital power supply design provides high speed, super low wear 0.1% SL circuit and faster MF finishing character, and super fast graphite machining speed can upgrade 50% efficiency.
Immediately track the alteration of machining environment, Fuzzy intelligent controller could automatically adjust the best machining parameter.
Providing discharge conditions for the use of small piece, it is suitable for thin piece, super low wear machining for small electrode, and deep edge-trimming machining.
Providing A area function will suit each area to adjust OF value.
Automatic regression to machine's zero point of Z axis.
Q timing machining function.