CNC EDM A SERIES
Advanced technology EDM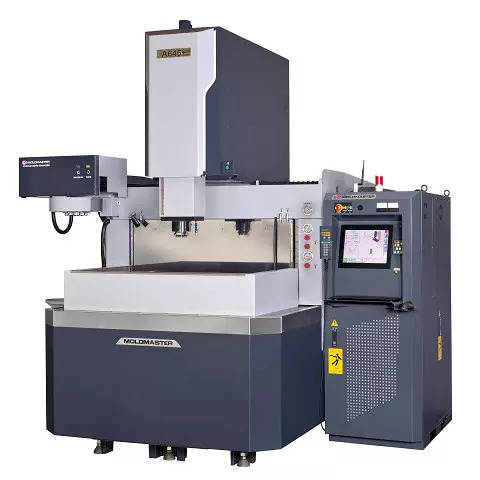 Feature
MOLDMASTER A-series with high precise & elevating work tank& full automatic technology will support mold production to be high-speed and manufacturing with no personnel. (Taiwan Patent NO:M373250 )

[Elevating work tank]
Accessible space design and programmable height control of the work tank; Enable closer machine operations from three different directions and easily to in and out workpiece by robot.

[Newly Designed High Precision Head for Z Axis]
Features heavy weight and strong rigidity main axis implementation, which keeps traverse rate at 8 m/min high-speed and also ensure the main axis usage durability from daily operation.

[Increased machine accuracy](With Optional ±0.1C Cooler Equipped, Under Constant Temperature)
The fully-covered body machine design makes the machine dust free in the structure, and the cooling oil system keeps the machine temperature as stable as possible. The X, Y, Z axis are calibrated with laser equipment to achieve ±1µm during axis traveling.

[Newly Designed Power Supply & Control System]
With the new power supply and control system which extends the life of electrical boards, reduces the electrode wear. The fuzzy control technology enables high traverse rate at 8 m/min without over shoot.

[Power -Less Than 0.05% Super-Low Wear Circuit]
The advanced digitized power technology control the production of every electrical current and adopt equal energy's discharge circuit design to make after-finework polishing very easy. Now, electrode wear ratio referring to SL circuit below 0.05% from thick to thin only need a electrode to complete high precision work. Cleaner machining in corners, rising points, channels, ribs, and sharp angles contribute to a very low electrode wear. Specially providing 2mm ~ 5mm small piece and small clearance discharge conditions will be most suitable for Electron Information Precision Mold Industry to work with particular low wear. A modern Fuzzy intelligent control system provides the auto adjustments of machining parameters and improve the machining efficiency and safety. More easy to use, a beginner can operate like an expert.

[Automatic Back Flushing Equipment](optional)
Reduce secondary discharge to improve machining performance and precision mold corner, cost down and replacement filter time.

[HQSP The High Quality Super Polishing Equipment](optional)(Taiwan invention patent: I229622)
HQSP is able to substantially increase luster Surface Area Limitation to approximately 400cm². The time for completion of luster surface area is approximately 1/2-1/5 longer, to reduce the machining surface cracking and saves time and efforts in manual polishing operations after machining.

[Windows interface](optional)
More user friendly graphical interface improves the user familiarity with the system also reduces the time of learning.
Diversification measurement function (3 points for Center, unsymmetrical groove unsymmetrical column, parallel calibration)
Multi-workpiece automatic measurement with the same size, the coordinates can be recorded for the convenience of program editing.
Programmable measurement, the measurement function can be edited into program, for the needs of automation operation.
Program check, alert the user program errors and the cause.
Remote monitoring by mobile phones, pads, or laptops anytime anywhere.
Remote program editing on laptops anywhere.
Compatible with EROWA calibration equipments.
Compatible with any coordinate measuring machine(CMM) electrode compensation files.
Windows Feature